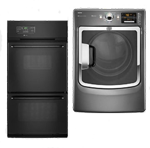 A-1 Service Appliances, Inc. is your one stop shop for over 30+ years. We are the source for all of your home/commercial appliances in Sales, Service and your Parts need.
Come in and visit our showroom today! It displays new and used appliances and one of our experienced sales staff will be more than happy to answer all of your questions. If you are unable to make it to our showroom please feel free to call us at 310-390-7870.
We also offer installation of the appliances we sell.
Our installers are trained and work closely with our customers to take the utmost care in getting the job done right. We feature low prices on all appliances: Refrigerators, Ovens, Microwave Ovens, Washing Machines, Dryers, Dishwashers, Gas Ranges and Electric Ranges and carry all brands. Our used appliances inventory changes every week.
Accessories (New & Used):
Air Conditioners
Dishwashers
Garbage Disposals
Dryers
Heaters/Furnaces
Water Heaters
Microwaves Ovens
Ranges & Ovens/Hoods
Refrigerators
Freezers
Washing Machines
Dryers
Ask one of our specialists to explain the extended warranties available for your new or existing equipment.

And Many More...